San Francisco Events

San Francisco is one of the most populated cities in California and hosts amazing events throughout the year that are great fun for everyone to enjoy. Depending on the time of year and the weather, the many San Francisco events held draw in many tourists bringing added energy to this large city. Here are just some of the San Francisco events that are hosted throughout the year that TALK students can enjoy.
March – April – May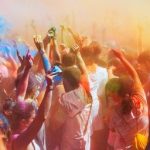 During the months of March, April and May, San Francisco hosts an array of special events that bring out the best of the springtime. Some of the key special events you can visit during this time include:
June – July – August
Summer is the peak season for tourism in San Francisco and thus offers an array of key special events that are fun and exciting for everyone to check out. These key events include:
September – October – November
Autumn in San Francisco is a fun time to see a great variety of different special events. Autumn is a time when the festival atmosphere comes alive throughout the town. The festivities include:
December –January – February
Although winter is a time for the colder weather, it doesn't dampen the fun and festivities. Here are some of the special events from December through February.