TALK Boston is relocating to the city center – the new English school in Boston opens its doors March 3, 2014
What comes to mind at the mention of 'Boston?'  Let's see –  it's the birthplace of modern America, the home to world-class museums, the education capital of the world – and, as of March 3, 2014 –  the city's Financial District welcomes TALK English Schools, the new English School in Boston's downtown.
Listening to anyone who has spent time in Boston, and it's other – less definable – things that come to mind when we think of Boston. There is a unique humanity, spirit and character to Boston. One 'gets' the delightful hold that this little big city has over its dwellers if you just read some TALK Boston FB posts – like these.
How much do our students love Boston on Facebook?
A LOT!! As these comments show:
"I love my home The BEAN – BAWSTIN!"
"The islands of the harbor, the soft breeze on summer nights with the smell of the ocean to put you to sleep, the people – kind and passionate, the green surrounding everything – a very special city"
"Simple charm and character like no other city in America! Great lifestyle experience…culture, sports, quaint, simply the best!"
"I love everything about Boston. It's so diverse and open minded people. The lifestyles are hip. Everything is reachable within the miles."
"I love the bean because it has a lot of historical history and landmarks!..and I was born here!!! Roxbury breed!…celtics,redsox,bruins,pats…u can't get no betta than that!
It is located on the coast, it has beautiful harbor islands, it is rich in history, it is a walking city. It is so easy to get from one side of town to the other!!! It is a sports town. It is full of theatre, museums, music, neighborhood celebrations, and is multicultural."
"BEANTOWN MY FAVORITE PLACE TO COME TO WHEN I COME HOME TO VISIT MY FAMILY………JUST LOVE BOSTON AND ALWAY'S WILL LOVE BOSTON……..WENT TO BOSTON AS A CHILD AND WILL NEVER FORGET BOSTON…….LOVE IT….."
Add to this Facebook posts that sing more praises for Boston, like:  the food;  the skyline;  the diversity;  the hospitals, schools, restaurants;  its walkability;  the nightlife;  Newbury Street; neighborhood celebrations; rowing on Charles River; dinner In The North End – well, a visit to the city becomes very difficult to resist!
The opportunity to establish an English school in Boston occurred in 2010, as TALK English Schools sought to expand to major cities in the USA.  Boston is one most popular American cities for international students. With more students per capita than anywhere else in the country as well as its multicultural character, it is a city that seems customized for the international student. Add that to the rumor that the best English is spoken here, and TALK English Schools  grabbed the opportunity to establish an English school in Boston! TALK's Boston new center was located on the picturesque campus of Regis College in the beautiful and historic suburb of Weston, Massachusetts. Founded in 1927, Regis College is just minutes from the lively, cultural lifestyle of downtown Boston by car or subway.
Recalls TALK Boston's director, George de Souza, "If my memory serves me correctly, TALK English Schools at Regis started before it actually started (if that makes any sense) in the summer of 2008 with Massey Pakdaman and a Japanese group of senior citizens.
"Massey, who was our National Academic Director at the time, told me about how much fun she had had at time with this group, especially owing to the fact that they had so much energy, and made her run all over town during activities!
"I began working at TALK Boston at Regis in June of 2010 …" George recalls:  "We started the first week with 1 student and by the end of it, we had two.  By mid-July, our student population was at 9.
"Baptism under fire is my game! I love challenges and always have. Never in my mind have I considered failure an option."
In August 2010, George's wife, Patricia, joined the TALK Boston team. "It just seemed to be a logical transition. We were relocating, she was looking for a job, I needed someone to share the workload and especially considering the fact we had met while working together at an EFL school in Rio in 1991 (she is no stranger to the business).  We've made a good team at home; we can make a good team at work."
Patricia de Souza says. "I was very excited to move to Boston and accept the challenge that was presented at the time."  Her caring manner with the students and both her and George's involvement with every aspect of their students' experience meant that she, too, quickly became essential part of TALK Boston's success.
By the end of 2010 TALK Boston had 20 students registered. 2011 was a year of steady growth and new challenges, with the student population reaching 30 by July 2011. TALK Boston then had the great fortune of hosting a group from Nijiima, Japan. The school closed the year having approximately 65 students.
2012 saw ever increasing numbers, including many groups, and by 2013 TALK Boston had pretty much exhausted their student capacity at Regis in terms of classroom space and dorms.
It was time for a change, and next chapter for TALK Boston was to present itself in 2013, when a larger and independent premises was found in the city's lively and central Financial District. George looks at it this way:  "Although Regis had been a good starting point with a beautiful campus and very good facilities, like our own students at the end of a course, we found ourselves graduating, moving forward and finding a need to relocate to a brand new center with more exciting challenges ahead."
Patricia is grateful that they started small, in a supportive environment such as Regis:  "Having started at a college campus gave us the opportunity to provide our students with an infrastructure and support right from the beginning."
The doors to TALK Boston's new facilities open on Monday, March 3, 2014.  Situated right in the heart of the city, this relocation will better serve international students and provide them with the unique city experience that Boston offers, including:
Close proximity to historical landmarks, parks and libraries
Fashionable shopping areas
A variety of restaurants, bars, nightclubs and recreational facilities
Walking distance to Boston Commons, Copley Square and the famed Newbury and Beacon Streets
TALK Boston is close to public transportation (the Boston "T" subway system is just blocks away)
Commenting on the new location, Patricia de Souza says: "Moving to the Financial District will bring us a more diverse student population, provide a better location for our students, bring new challenges and expansion opportunities."
TALK Boston's student residence options will remain the Boston City Residence, which is located in the vibrant Fenway neighborhood of Boston, or with a Host Family that is carefully selected and conveniently resides near public transport and/or near the school.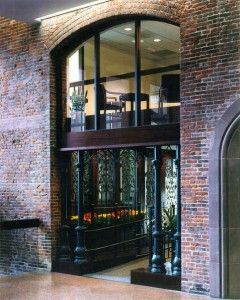 TALK Boston's new address is 99 Bedford Street, Boston, MA 02111.
To launch the new TALK English Schools – Boston, TALK Boston is offering a SUMMER GROUP PROGRAM in Boston, combining English language classes and including accommodations, for groups of 10 students + 1 leader, from June 1st to August 16th, 2014.   The 2014 Summer Groups will be housed at the colorful and distinctive new 21-storey Tree House Residence Hall at the  Massachusetts College of Art and Design situated on Boston's Avenue of the Arts.
"Boston is great because it offers so much to do without being an enormous or overwhelming city. Whether you want to experience the history, fashion, food, sports, or music and arts scene, you can do so in a city that still has a small-town vibe." Amanda Gaspar – TALK English Schools instructor.
With TALK English Schools situated in city's heart, the charm and character of the city combined with the  academic excellence we offer at an English School in Boston is hard to top!
Visit our website at www.talk.edu for more information.