Duy Vo and Jose Osorio – Testimonials
For this month's student testimonials, TALK San Francisco at NDNU Center Director Molly Ott conducted the following Q&A with student Duy Vo.  We thank our students not only for participating in our call for testimonials, but being so eager to do so!
Student Testimonials: Duy Vo and Jose Osorio
Why did you choose to study in Northern California?
I chose to study in Northern California because the weather is good and the people here are very friendly.
What was your first thought when you saw Belmont? San Francisco? Oakland?
I have had the opportunity to visit major cities such as San Francisco, Oakland, Belmont, etc. It was very nice and the streets are clean. The people here are very civilized and polite and willing to help foreigners.
Please tell us about your first day of school
I am very happy to receive Molly's help and caring from students studying in the same period.  Despite language difficulties, I tried in my ability in learning English.  The students at NDNU are so cute, they are willing to help when they can. I love what I learned from school in America.
Tell about your favorite experience at TALK so far
My experience after completing the course in this place is constantly learning in all situations and improve self-sufficiency in life. I learned this from my American friends.
How has your experience studying in the US has changed you?
After completing the program in the U.S., I will have many changes in thinking about how different life is than when I lived in Vietnam. My English level has improved a lot. I learned so much from life and from others who studied with me.
Molly! I will miss you when I finish English classes after two months 🙂
Jose Osorio from Colombia, a student at TALS Boston, also agreed to contribute a testimonial about his time at TALK English Schools,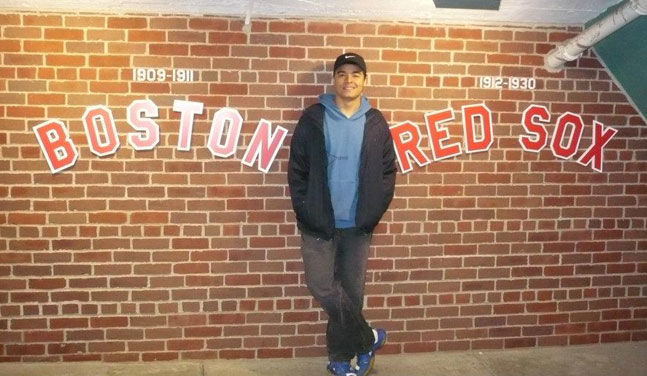 TALK Boston at Regis College Administrative Coordinator Patricia DeSouza conducted the following interview with student Jose Osorio:
Why did you decide to study in Boston?
I decided to study in Boston because it's one of the most famous cities in the United States because of its history. Boston also has many colleges and universities within the city and surrounding areas so it has many opportunities for me as an international student.
What was your first impression of the city?
I was amazed by the beauty of the city. Boston has so many interesting places to visit like: the common, North End, Boston Public Library, New England Aquarium, etc. You must also visit two of the most important universities in the United States: Harvard and MIT.
Please tell us about your experience living with a host family
I lived in homestay for my first month and this was one of the greatest experiences so far.  I had a great homestay family and thanks to that I could learn different customs from the Unites States.
How was your first day of school?
On my first day of school I was really excited for this new experience. Everything resulted being much more than I expected: the amazing Regis College campus, the wonderful teachers, and a lot of new friends from all over the world.
[/one_half][one_half_last] What are some of your favorite activities in which you have participated?
All the activities have been a lot of fun. Tie dying, playing sports, watching movies, and even the grammar classes were fun. The funniest activities for me were karaoke and the BBQ at Cochituate Lake.
Please tell us about the friends you've made
One of the greatest things from this experience is all of the friends I have made. I have met people from all over the world. I have friends from Japan, Korea, Thailand, Brazil, Israel, Russia, Venezuela, and even a lot of new Colombian friends in only two months.
How has studying with TALK helped you?
Thanks to this experience I've learned a lot of new things, learned new customs, met a lot of new people, and most importantly improved my English. Thanks to this experience my professional and personal horizons have grown.
Thanks, Jose and Duy Vo, for such great testimonials.  We are thrilled you found your time with us so rewarding!