Water Bottle

When studying in college in the USA there are those times of the year when the weather is very hot, and especially during the summertime it is important that our TALK international students have a full water bottle that they can carry around on campus and off campus. In fact, a water bottle is such a useful item for students to have on them whatever the weather, and at all times.  Here are some of the reasons why water bottles are a must-have.
Water Bottle Advantages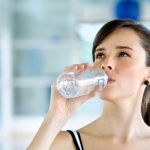 Hydration – Keeping a water bottle with you at all times is a good way of keeping you hydrated especially when playing sports or when out in the sun. Dehydration can cause problems with your mind, body, and your overall health, and can cause you to have difficultly learning. Having a water bottle close at hand is a means you don't risk dehydration.
Combats Thirst – Having a water bottle on hand is also a great way of satisfying your thirsts at any time, before, during or after class. It allows you the opportunity to quench your thirst at any time you need to.
Saves Money – Having a water bottle with you at all times will stop you being tempted to buy those expensive and unhealthy soft drinks, soda, sugar-filled fruit juices, etc.  Water tends to fill you up and you will not crave other drinks so much if you have a filled water bottle on you that all you need to do is refill it – for free – when you are low on water.
Water Bottle Tips
Here are some good things to know about maintaining your water bottle and keep it hygienic.
Wash the Bottle – Although your bottle may have only had water in it, it is a good idea to wash the bottle every few days to clean out and get rid of any bacteria build up under the lid or from heavy sun exposure. This will help you stay healthy at all times.
Recycle – When it comes to purchasing or upgrading your water bottle, check to see whether it is recyclable. Always recycle if you can to reduce waste.
Make Sure Lid is Tight – When you place a full bottle in your bag, make sure the lid is tightly secured. There is nothing worse than a spillage all over your school work and electronic items because of a loose cap!