Student Counselor

For TALK international students studying abroad, the experience can be a little daunting – if not overwhelming – at first, having to adjust to your studies, your new surroundings and the effects of culture shock. During this tough time, students should seek out student counselor services to help cope them process all these changes. Here are some likely conversation points to think about discussing with your student counselor and dealing with any problems you may be having.
Change: When you step onto your host country terrain, you will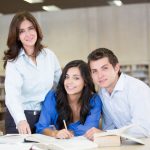 immediately notice all the differences and contrasts to your home country.  This can be quite exciting, but also stressful. Because change brings an unfamiliar and unknown feeling with it, you may well feel very overwhelmed.   If you are struggling with all these changes, it is advisable to speak with your student counselor.
Loss: Feelings of loss also contribute to the international student's sense of loneliness and unhappiness.   The kind of loss a student may feel could be their loss of status, as they have no position in this new society, their loss of contact with the people they love, and the loss of everything that is familiar to them about home culture, such as the food, the places, the atmosphere and the climate.
Value Differences: US values may differ from other countries and this can be challenging for international students. Some value differences may include social, moral, political, work related, and educational values. The greater the culture differences the more challenging your adaption process is likely to be, and the better advised you are to seek counseling or support.
Expectations: If you hold the US to certain expectations, you may find it difficult to adapt if these expectations cannot be met. Speaking with a counselor about your expectations can help you to understand them and see what is realistic about your expectations and what is not.
Social Skills: The inability to communicate and have proper social skills may make international students feel intimidated, and they be harsh on themselves. They may find it difficult to express their needs and desires, and in these situations it is good to have a counselor who can listen to them and help them express their needs in a way that can be understood.
 Common Adaption Stress Signs
There are many signs that you can look for which are indicators of stress in international students adjusting to life in a new culture. Some of these stress signs include:
Homesickness
Loneliness
Anxious or sad
Crying more than usual
Change in sleeping habits
Change in appetite
Irritability
Physical discomfort
An onslaught of minor illnesses all the time
Difficulty concentrating
Academic difficulties
Overwhelmed feelings
Pressure and tension
If you feel you are experiencing any of these symptoms and/or culture shock, it is best to seek professional help with a student counsellor to help get you through this challenging adjustment period.