Internships for International Students

In this article about internship programs, please note that  TALK English Schools is not authorized to provide the necessary documentation, i.e. J1 Visa based on CPT and OPT eligibility, for international students intending to combine their studies in the USA with an internship.
For international students looking to get ahead in the workforce, and who have already decided on their career, entering into an internship program in the your chosen career field  is an excellent idea. Internships are a form of job training that is specific to more 'white collar' or professional types of employment. They allow you to provide services to a business or corporation in exchange for the experience of working in an environment where you can learn the reality of working in the profession you have chosen to follow.
In the USA, post graduate adults, high school students, college students or university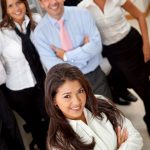 students have the opportunity to be interns. Students who have studied abroad also have the opportunity to use an internship to help you to determine if the career option you are interested in is actually the right one for you.
For those seeking internships in a variety of careers, the United States of America provides many channels and opportunities. Here are some ways we recommend in order to find the right internship program for you.
One of the first things you can do is talk to your international student coordinator to see whether you are eligible for CPT or Curricular Practical Training. This training may allow you to receive a paid internship after a 9 month period of entering the USA. The CPT requirements are that your internship is to be related to the major you are studying.
Once you have established that you qualify for an internship, you will then need to initiate a search for where you can go to be an intern. Connect with internship centers, online job banks, newspapers, organizations, and companies that may be of interest to you. Once you have found the program to which you wish to apply, send your resume to your school's internship coordinator and request information about how to apply for the position you are interested in.
After you have been accepted to be an intern, you need to fill out the CPT form located at your international student office and submit it for approval. You will then be given an I-20 record of your internship dates and employers.
For those who are looking for an internship after graduation, you need to identify an OPT (Optional Practical Training) program. International students must apply for approval to work in the OPT program through US Department of Immigration. Once approved you will be granted an EAD (Employment Authorization Document) that allows you to legally work up to 12 months in the USA.