The Importance of Staying in Touch
With all the excitement of studying abroad, TALK English Schools students may forget for the moment about their family and friends back home. During your study time abroad, it is important for you and for your friends and family to keep in touch regularly – possibly weekly – to help keep your homesickness at bay. There are many different ways you can stay in touch with those at home.
Key Technology Items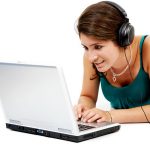 The internet is one of the best and easiest ways of keeping in touch with friends and family. Before you move to your host country, try to work out if they have Wi-Fi options available and the availability of internet access. In doing this, also make sure that your family has all the devices and tools needed to connect online. Such devices would include computer, webcam, or mobile phone.
Viber
Viber is a simple app which is designed to be used with Smartphones. It is released on iPhone, Windows, Android, and Blackberry. The Viber app allows you to make free calls and sends free text messages to other smartphones that have installed the app. This is a great way of lowering your phone bill.
SKYPE
Skype is a great program which is used on iPads, computers and iPhones to make video calls, IM, or just calls to anyone else who has Skype on their computer. The best part about this is that it is free. This program gives you the options of seeing your family members and talk with them, no matter where you each of you are in the world.
Special Occasions
For the special occasions that you may miss while you're away, there are many ways to keep in touch. For a quick way to send a message, you can use programs that have the ability to send e-cards. Purchasing and shipping gifts are very easy when you buy off online e-retailer and auction sites such as Ebay or Amazon. Staying in touch with your family doesn't have to be costly or hard when studying abroad. With the huge, varied and sophisticated advances in modern technology these days, there are plenty of ways for you to stay in touch with the ones you love.