Healthy Breakfast Pumpkin Muesli

When it comes to living a healthy life, whether or not you are a vegan, TALK International students have plenty of different options to choose from when it comes to a healthy breakfast. Breakfast is the most important meal of the day and without it, it can really compromise your learning ability, and cause you to have problems with memory and concentration. Here is one of many easy vegan recipes which are perfect for giving you all the energy and concentration you need to make your learning much more enjoyable and efficient.
Pumpkin Muesli
Ingredients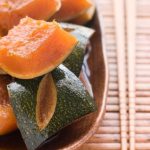 ¼ cup quick-cooking oats
½ cup plain nonfat yogurt
¼ cup pumpkin puree
2 tbsp. honey
1 tsp. lemon zest
2 tbsp. sliced almonds
Method
Step: 1 – Combine your quick cooking oats along with your pumpkin puree into a bowl that is safe to place in a microwave.
Step: 2 – Cover the top of the bowl with plastic wrap or paper towel and let it cook for 20 seconds.
Step: 3 – Take the bowl out of the microwave and let it sit for around 10 minutes to cool.
Step: 4 – While your bowl and mixture are cooling, combine your half cup of nonfat-plain yogurt with 2 tbsp. sliced almonds, 1 tsp. lemon zest, and 2 tbsp. honey.
Step: 5 – Next stir the yogurt mixture into the mixture of oats until it is nicely mixed.
Step: 6 – Eat as is or enjoy some extra flavors by adding selected fruits to the top.