Easy Healthy Lunches – Hawaiian wrap

Having a proper lunch is vital to you having a good amount of energy for the remainder of the day, and to help keep you energized and motivated for the rest of your classes. For TALK International students looking for some easy healthy lunch ideas, here is one that will give you not only the nutrients you need but also the yummy flavors you may be looking for!
Hawaiian Wrap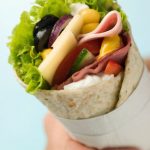 Ingredients
¼ cup nonfat Greek yogurt
½ tsp. caraway seeds
1 tbsp. white wine vinegar
¼ cup pineapple (diced)
2 slices of deli ham (chopped)
½ carrot (shredded)
¼ head Napa cabbage (thinly sliced)
Whole wheat wrap
Method
Step: 1 – Take your nonfat ¼ cup of Greek yogurt and mix it together in a bowl with your caraway seeds, and 1 tablespoon of white wine vinegar.
Step: 2 – Next lay your whole wheat wrap out on a plate so it is nice and flat.
Step: 3 – Take your diced pineapple, shredded carrot, chopped deli ham, and thinly sliced Napa cabbage and place them onto the whole wheat wrap on one side.
Step: 4 – Pour your yogurt mixture over the top of your vegetables and ham until it is covered.
Step: 5 – Carefully take the end of your wrap and roll it gently until you have tightly wrapped your ingredients.
Step: 6 – Eat and enjoy your healthy Hawaiian wrap and not missing out on the tastes and all the yummy flavors.