Easy Healthy Lunches – Green Tortilla Pizza (30)

Lunch is an important meal of the day, and for our  TALK international students, with their busy class and study schedule, it is a meal not to be missed. Lunch allows you to not only get past the middle of the day, but gives you all the energy and concentration you need to easily retain what you have learnt at the end of the day. Here is one of many easy healthy lunch ideas that you can use to make yourself a really nice treat for your next lunch break.
Green Tortilla Pizza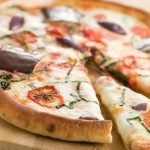 Ingredients
2 tbsp. pesto
1 whole-grain 8-inch tortilla
1 large handful of spinach
2 tbsp. chopped broccoli florets
4 baby bella sliced mushrooms
2 tbsp. chopped onions
2 tbsp. part-skim mozzarella
Step: 1 – Preheat the broiler/oven so it is ready to place your pizza in.
Step: 2 – Place your tortilla on an oven tray and spread the pesto across the top of it.
Step: 3 – Next sprinkle the spinach, broccoli florets, sliced mushrooms, chopped onion, and the mozzarella on top of your tortilla.
Step: 4 – Place the tortilla into the broiler/oven for about 4 minutes or until the cheese is cooked and lightly browned.
Step: 5 – Take your tortilla pizza out of the oven and turn the oven off.
Step: 6 – Slide your pizza onto a place and allow to cool slightly before eating and enjoying all the delicious flavors.