Easy Healthy Dinners – Springtime Stirfry

Dinner time is an important time of the day to not only eat healthy but relax after a hard day of studying. At dinner time TALK international students may feel the need to just snack on any meals whether fast food or anything that is at hand in your kitchen cupboard, but in reality, if you have a healthy meal before going to bed, you will have plenty of energy for the next day. Here is one of many easy stirfry recipes for students who are looking for quick and healthy alternatives for their dinner that is affordable.
Springtime Stir Fry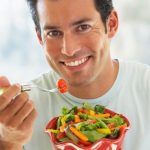 Ingredients
½ cup broccoli florets
5 quartered lengthwise asparagus spears
¼ cup fava beans (shelled)
2 tbsp. canola oil
½ cup snow peas
1 scallion (chopped)
½ tsp. grated ginger
Method:
Step: 1 – Turn on your stove and preheat to a medium high heat.
Step: 2 – Spray cooking oil into your pan so it has a layer of oil.
Step: 3 – Take the asparagus, snow peas, broccoli florets, and fava beans, and place them in the pan.
Step: 4 – Cook the vegetables for about 4 minutes.
Step: 5 – Take your canola oil, grated ginger, and scallion, and toss it into the frying pan as well with the vegetables.
Step 6: – Cook for another 3 more minutes or until the vegetables are crisp on the inside and soft on the outside.
Step 7: – Optional, serve with rice.