Easy healthy dinners – fish sticks

When they have attended class and taken part in various activities all day, our TALK international students may feel they don't have enough time in the day to prepare and eat a proper meal for dinner because they have to study. Well, this doesn't have to be the case anymore. Here is one of many easy recipes for students who are looking for quick and easy meals for evening, one their classes are over.
Fish Sticks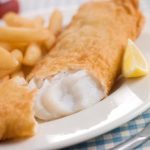 Ingredients
1 6-oz. cod filet into 6 strips
1/2 tsp. balsamic vinegar
1/8 tsp. paprika
1/8 tsp. salt
1 egg (scrambled) raw
½ cup seasoned whole-wheat breadcrumbs
Method
Step: 1 – Turn the oven on and preheat it to 425 degrees F.
Step: 2 – Slice your cod filet into 6 separate strips.
Step: 3 – Season your cod fillet strips with your paprika, salt, and balsamic vinegar.
Step: 4 – Place each strip into your raw scrammed egg before patting it and covering it with the whole-wheat breadcrumbs.
Step: 5 – Take some aluminum foil and place it onto a baking pan.
Step: 6 – Place you fish sticks onto the foil and cover with a coating of oil spray.
Step: 7 – Bake in the oven between 8-10 minutes or until they are opaque throughout.
Step: 8 – Once cooked take out and serve with a handful of green salad.