Easy healthy dinners asparagus and orzo pasta

Eating a healthy dinner has many benefits, including enabling you to maintain the energy levels you need keep going throughout your busy daily schedule. For TALK international students, there are a lot of recipes that offer a healthy meal for dinner instead of resorting to any fast food restaurants. Here is one of many different easy healthy meals that you can cook right in your own home.
Asparagus and Orzo Pasta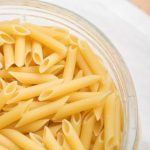 Ingredients
¼ lb. asparagus (3-inch pieces)
½ cup orzo
5 oz. salmon filet
¼ tbsp. chopped dill
½ oz. crumbled feta
½ tsp. olive oil
½ tbsp. lemon juice
Salt
Pepper
Method:
Step: 1 – Use your broiler and preheat it ready.
Step: 2 – Fill a small pot of water and place it on the broiler and boil for about 5 minutes.
Step: 3 – Add the asparagus and cup of orzo to the boiling water.
Step: 4 – After 3 minutes, take the asparagus out but leave the orzo in and continue to cook it to the length of time the instructions on the package indicate. (Generally around 6 minutes).
Step: 5 – As your orzo continues to cook, take your salmon filet and season it with salt and pepper.
Step: 6 – Broil your salmon for about 5 minutes or until it is opaque through it.
Step: 7 – Whisk together your crumbled feta, chopped dill, lemon juice, olive oil, and pepper.
Step: 8 – Flake the fish and toss it together with all the ingredients to soak up the flavor.
Step: 9 – Serve and eat.