Creating memories of your Travels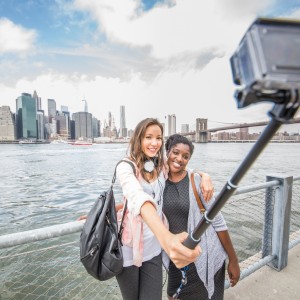 Your study abroad trip is an adventure of a lifetime. and possibly you first trip abroad. Creating memories becomes so important and so many of our TALK students do a fantastic job of creating memories by photographing and video graphing their time in the USA.  We asked some of our TALK alumni students to list those special moments that they are so glad to have captured. What were the top 3 things they wish they had taken photos of during their time in the USA – but did not.
Go Pro and other action cameras, with their compact size, flexibility and durability, as
well as the possibility of editing footage on-the-go, is a travel photographer's dream.  Like all travelers abroad, our international students know how important it is to register those special moments of their study abroad course.
Creating Memories – TALK alumni students speak
Ece Ozenc, a former TALK student at TALK English School in Fort Lauderdale, was very good at recording her experience.
"To be honest, I don't remember the things that I wish I had taken photos."  And looking through her massive portfolio of fantastic photos, we cannot help but agree! Ece not only took some great pics of her time at the school, but she was very adventurous and wanted to take everything she could in.  She took an aerial tour of Miami.
Ece traveled as much as she could while she was studying at TALK Fort Lauderdale.  She made sure that she visited The Big Apple.  Her pictures demonstrate a great big love affair with the USA, with the people and with the school students and staff!
Monica Caponi, who came to study in the USA from Argentina, is an alumni who had such a great experience as student at TALK English Schools that she later joined the school as an Assistant Director of TALK Aventura loved the super friendly environment and excellent teachers.
But she has some regrets that she did not take enough photographs:
"Of course I would like to have taken pictures of every moment at Talk and during our activities, but at that time I didn't have the opportunity and the tools to do it. Tools mean a good camera!"
One of the photos she did not take?
"I don't have a picture is from my graduation at Talk."  Monica also wishes she had a photograph of the special group of people who were her classmates, as well as the group of dedicated teachers that she remembers so well.
Valeria Quatrini, who came to learn English from her native country of Italy says she wishes she had taken photos of her teachers and one with her classmates, but she DID take lots of photos of the many school BBQs!
It is understandable that students are so busy getting adjusted, learning new things, having exciting adventures that recording these moments and creating memories might be the last thing on their minds.  But later on, not having paid attention to creating memories of this special time really does become a matter of regret!
Thinking of going abroad to learn English? Since 1998, TALK has brought students from all corners of the world together to the USA to learn English. Our vision is about a world where communication, understanding, co-operation and respect exist between people of all countries and cultures. At TALK, we believe the best way to learn English is to be fully immersed in American culture both inside and outside of the classroom.  Learn More About TALK.