Bike Routes and Road Trips at TALK Destinations

When you are studying in one of the cities at our TALK schools in the USA, you will find plenty of bike routes and road trips that feature parks, scenic places, landmarks and architecture and that lend themselves to Action Camera moments.  We thought up the best bike routes and road trips in each of our TALK city destinations.  On those bike routes, you can enjoy the great landmarks and beautiful streets with your action camera attached to your handlebars or even bike helmet. Taking a road trip from each city is a fantastic way to get to know the scenic wonders, towns and rural communities outside the city.
Bike Routes and Road Trips USA
San Francisco Road Trip – Pacific Coast Highway to LA
Ultimate summer road trip on this iconic route. One of the most famous road trips in the USA. Take your time as you drive the 450 miles between these two cities – 100+ miles per day for a 5-day trip is the most comfortable pace, to really appreciate all there is to see. Go north to south. All the pullovers and beauty are just to your right-hand side. Suggested schedule:
Day 1: San Francisco to Carmel
Day 2: Carmel to San Luis Obispo
Day 3: San Luis Obispo to Santa Barbara
Day 4: Santa Barbara to Los Angeles Film this with your GoPro.
 San Francisco Bike Route  Rent a bike at Fisherman's Wharf, go over the Golden Gate Bridge, to Sausalito (16 mile total). Mount your Action Camera on your bike helmet.  Take a GoPole for some selfies.
 Atlanta Road Trip – Atlanta to Savannah
The best route option from Atlanta to Savannah is to stay on the interstate. You will take I-75 south to Macon and then I-16 which runs directly to Savannah. Its about 250 miles from Atlanta to Savannah.  Macon would be a nice stopping point should you decide not to drive straight through. It has the Georgia Music Hall of fame, The Olcmulgee National Park, which is also known to as the Indian Mounds. Rose Hill cemetery which is also on the national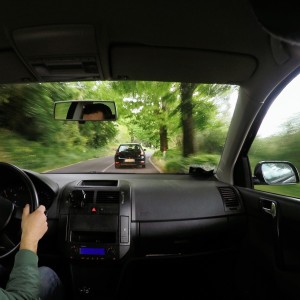 register as it contains confederate grave sites as well as being the final resting place of Duane Allman and Barry Oakley from the Allman Bros. Band. Other suggestions about an hour from Macon are the towns of Juliette- Whistle Stop Cafe where movie Fried Green Tomatoes was made and Jarrell Planation- 1800s Georgia plantation.
Atlanta Bike Route Take a rental bike along Atlanta BeltLine, which will connect Atlanta through greenspace, trails, transit, development, affordable housing and art along 22 miles of historic rail segments that encircle the city's urban core. This trip gives you an intimate view of Atlanta's present and past.
Boston Road Trip – Coastal New England
From  Boston take the Northern New England coast drive with seaside villages and shoreline stretching from Massachusetts, through New Hampshire and on up into Maine. Stop at beaches and fishing harbors, wander through artists' colonies and world-class museums, and marvel at the solitude and natural beauty of one of America's most popular national parks.
Boston Bike Route  The bike route that takes in the  Arnold Arboretum is one of the best in Boston.  This arboretum is almost 150 years old and is the oldest public arboretum in North America. A route around the arboretum will take you in a loop that's approximately 4.5 miles, but you can also take your bike along the paved main paths for a tree-lined, meandering route. At the southern tip of the park, you'll find Peters Hill. Although you may have to walk up the last 200 feet of the hill, you'll be rewarded with an amazing view of the city of Boston. You can also stop by the Roslindale Wetlands Urban Wild Park to see the maple swamp and go bird watching.
Miami Road Trip – Miami to Key West
The 113-mile (181-kilometer) drive on Highway 1 from mainland Florida to Key West induces sensory overload. Besides the natural beauty along the route—tidal flats, teal waters dotted by distant islands—the so-called Overseas Highway awes you in its own right as an engineering marvel. Its concrete stretches across impossible expanses of water, the Atlantic spreading out to the left, the Gulf to the right.  Highway 1 is festooned with classic Americana, from kitschy gift shops purveying seashell necklaces to burger stands offering shakes and fries. But that's just the half of it. Beneath the ocean surface lies a separate world of Technicolor fish and coral reefs. Below are the five best dive sites you'll encounter as you proceed from Key Largo, near the top of the island chain, down to Key West, at the end
Miami Bike Route – Rickenbacker Trail
This popular causeway promises spectacular views of Biscayne Bay, and a great tan at one a local beach. The bike trail spans the entire island of Key Biscayne. Along the way, you'll pass well-known spots including Virginia Key Beach, Crandon Park and the Miami Seaquarium. The 8.5-mile, paved trail ends at Bill Baggs Cape Florida State Park.
Fort Lauderdale Road Trip – The Scenic US441 Backroads
Take the US441 from Fort Lauderdale to Orlando Along North Central Florida and head for the Old Florida Heritage Highway with its outstanding cultural, historical, archaeological, recreational, natural and scenic area and old Florida towns
Fort Lauderdale Bike Route
If you're patient, the Hollywood Broadwalk can be a delightful ride. The Broadwalk is only 2.5 miles long — but the funky Florida feel is a throwback to another era.  Mom and pop cafes and shops line one side and the spectacular beach lines the other.  To extend your ride, you can continue several miles north along a seagrape-lined route through North Beach Park and then onto a narrow Surf Road. Be careful of children and pedestrians  wandering into the bike lane. So this is a trail made for sight-seeing and patience. It also pairs well with a day at the beach or a slice of pizza and a beer at a beachfront cafe.
Our TALK English schools are located in some of the great American cities and, you will find plenty of bike routes and road trips that feature parks, scenic places, landmarks and architecture and that lend themselves to Action Camera moments.
Planning to study English in the USA? Check out TALK´s English Courses and TALK´s English Schools. Get a Free Quote from our specialists and start the journey that will expand your horizons!