10 Things To Do In Key West
You can't spend time in Fort Lauderdale/Miami without a visit to Key West – the ultimate laid back town in the U.S.A.  At TALK English Schools, we organize exciting monthly activities that often include trips to Key West.
Key West student trip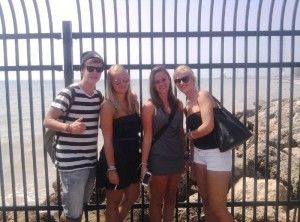 When you visit Key West, you will find many fun activities including biking, fishing, swimming, beaching, shopping, sailing, visiting great restaurants and historic landmarks, and meeting wonderful people.
Top 10 Key West things to do and see:
1.       Lloyd's Tropical Bike Tour
www.lloydstropicalbiketour.com
An eco-tour that combines the beauty and charm of Key West.   This  two-hour bike ride will take you along the town's lesser known, quaint streets and secret lanes.  Sample the exotic aromas of tropical flowers such as frangipani, gardenias, and jasmine, and taste the local tropical fruit, such as mangoes, coconuts, starfruit, and key limes.
2.       A walk through Bahama Village
The homes, restaurants and cafes in Petronia Street and surrounds echo the past of the 19th Century black settlers from the Bahamas.  Stop at Blue Heaven, an outdoor restaurant that serves delicious Cajun-Caribbean cuisine.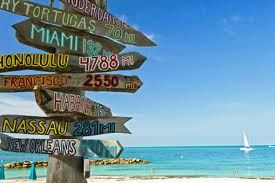 3.       Zachary Taylor Historic State Park
The best beach in Key West is there.  You can rent a snorkel set or a glass-bottom kayak here too.
4.       Mallory Square (at sunset)
A typical tourist spot but lots of fun.  Jugglers, vendors, magicians and men sporting snakes and parrots on their shoulders are sure to get your attention.  After the sun has set, head for:
For a delicious cocktail. Located on Front Street.
6.       Ernest Hemingway's Home and Museum
Worth a visit, not only for its atmosphere and feel of how this author lived and worked, but for the abundance of cats (anything up to 60 of them).  Hemingway loved cats so these creatures are very well looked after.
7.      B.O.'s Fish Wagon at 801 Caroline Street
A must on the menu is the cracked conch sandwich, tiny strips of fried conch stuffed between fresh Cuban bread with Key Lime mayo.
8.       Key West Cemetery  
Sounds macabre but it is fascinating! Especially the stories that go along with it! It is located on the highest point of the island. The cemetery was moved there after a 1846 hurricane washed several corpses out of their graves.  There are approximately 60,000 to 100,000 people buried in this cemetery. The sight of all the above ground graves is truly creepy, but definitely worth a visit.
9.       The Southernmost Point of the U.S.
You have to visit this attraction and get your picture taken, just so you can say you've been as far South as you can go on land.
10.   The Friday Night Turtle Race at Turtle Kraals  on 231 Margaret Street
Grab a ticket from the bartender for the 6 p.m. race, and join the crowd as people pump their fists and hurl mock threats at a handful of box turtles inching their way down a shuffleboard table. www.turtlekraals.com
Key West has so much to offer, and is so different that even 24 hours there can make you feel you have been in paradise!