April Activities in Fort Lauderdale
With average temperatures in South Florida hovering around 82°F in the month of April, the really hot humid weather for which this area is known has not really set in, and so all sorts of outdoor April activities are still very feasible.
Some April activities TALK students can enjoy
While there are still the indoor activities like English movies which are always an option for TALK Fort Lauderdale students, activities director, Jamie Suell makes sure that the students get outdoors for barbecues and bathing at Fort Lauderdale's expansive seaside, and that they take the weekend off to enjoy an amazing road trip down to Key West where you walk its historic streets, visit the harbor and enjoy the characters who populate this famous southern-most town of the USA.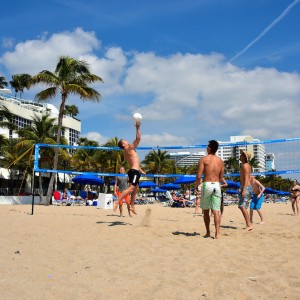 Because of the superb weather all year round, beach volleyball is a big sport in Fort Lauderdale for both pro and club volleyball, and every month including April's activities include a chance to join the fun. There are always 2 to 6 nets set up by the Marriott Harbor Beach Resort, with well-maintained courts and if there is not a beach volleyball tournament on there are a lot of pick-up games you can join, or form a group yourselves.
There are some events which are part of TALK Fort Lauderdale's annual April activities offerings. April is the month that country music's biggest beach festival, The Tortuga Music Festival, takes place on the sands of Fort Lauderdale Beach Park in Fort Lauderdale.   Together with Rock The Ocean, #TortugaFest pairs country, rock and roots music with meaning by raising awareness about marine conservation and issues affecting the world's oceans.  In this beautiful oceanside setting, Tortuga Music Festival is a 3-day, multi-stage music festival featuring some of the biggest names in country, rock and roots music. This year's line-up includes Kenny Chesney, Luke Bryan and Chris Stapleton.  Tortuga Music Festival brings like-minded fans together for an unforgettable beach weekend experience. This April, the festival will be happening from Friday, April 7 – Sunday, April 9, 2017.