Fall In Love This Fall

As the weather starts to cool down from the heat of the summer months, Autumn romance starts to blossom and the essence of love fills the atmosphere around you. Autumn is a time where the love you may be seeking will hopefully find you and have more meaning and depth. Listen as notable anthropologists, scientists, and authors explain as to why this is and why you should get out and about to find the person of your dreams.
Welcome To The Mating Season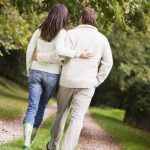 As the climate cools it is a signal for us to have the urge to pair up, this signal or urge is said to date back many, many years ago. Terri Orbunch who has a Ph.D in psychology and who is a sociologist, states that "We know that winter is approaching and it will be more difficult, or challenging, to find a mate during the winter. So we are more intent on looking for and finding that someone special during the fall, to nest with, to mate with, before the winter settles in."
In more depth, it is also known that us humans are also creatures of comfort. Susan Davis, Ph. D who is a Clinical psychologist in New York states that "In the winter, we hurry home to our nests to stay warm and protected from the elements," she also says that "To nest well, if we are single, we need to find a mate. It's a very basic, primitive need that still drives us."
The Libido Force
Anthropologist Helen Fisher, Ph.D. who is a Rutgers University research professor says that "Biologically, fall is a logical time to fall in love," and explains "It's an adaptive mechanism," and how "Summer is a time of plenty, a time of less stress, high nutrition and comfortable weather.". Although you may not be looking for a serious relationship for the next few months ahead, at a primal and deeper level, in our genetic makeup we are driven to couple up no matter if it is for keeps or for a fling.
Back To Business
Another reason why fall is a time when you become serious in a relationship is because in our makeup we feel it is a time to stop fooling around. Dr Fisher states that "Summer is a time when we're off, we're traveling, we're not part of our communities, but in fall we come back to our settled lives, get on with the important affairs of living. We're in a position to make a long-term commitment now."
As the focus shifts to returning to your community, your office, or your neighbourhood, you are more likely to have the "settle down" itch which has an enhanced power in fall. Dr Fisher also says that "When routine and normality return, we tend to fall in love with people who are around, and who we see regularly around the water cooler or at the gym.". He also states that "Proximity makes interaction more likely and rewarding. The more we see someone, the more familiar they become and the more we are attracted to them—and the more apt to fall in love."
In fall it is said to create relationships that are more likely to have a stronger staying power. So for those who are strangers on a beach or train may be more likely to have a fling while people who work or live nearby are in the prospect for true love.
Making An Impression On Someone From How They Dress
Fall fashion is known by September Vogue as serious fashion. Debbie Mandel, Author and NY relationship specialist says that "With fall clothes, you still see the form — you're not cloaked and covered up the way you are in winter — but you're not showing everything either, and that sends the message of 'take me seriously.'".
The shift from summer to autumn attire allows for both men and women to strut their stuff with confidence. Dr Fisher says that "The way we dress in the fall shows our resources—our money, our class, our education, our mate value," he also mentions that "Men wear suits in the fall. Clothes that reflect achievement and conscientiousness are attractive in a mate because they signal that you're responsible, able to get up and go to work and to deal."
Dr Fisher notes that a woman who is more covered up in fall clothes may appear to be more appealing to mates. This means your future partner won't have to work as hard to keep flirtation by potential threatening mates from stealing you when you are wearing jeans, boots, or a sweater.
A Celebration Of Love
What about pressure? As fall starts, so does the start of the holidays and during this time no-one wants to spend time alone. Dr Fisher says that "Christmas is the most profound festival in the Western world, I think, but there were midwinter festivals throughout the last 10,000 years of our agriculture heritage," he also points out "It's the one that we all share—and it's a time of getting to know your date's family, and of making new connections. It's not a time of short-term attachments but of building the real, solid relationships that the brain seeks."
Taking The Next Step
With all the information of Fall power, it can be daunting to take the next step. All you have to do is be confident and get out there to savour the season. Linda Madl, a historical romance writer, says that "In the fall the sky is deeper blue, the air fresher, the leaves more colorful," she also says "It's time for bonfires, apple-picking and hay rides, and the scent of burning leaves.". With all the festivities about, why not get out there now!
COMPETITION
The TALK English Schools is giving new and upcoming students the opportunity to
with our new Fall competition. For your chance to win this amazing prize, all you have to do is like our Facebook page and upload your very own photo of the things you love with the hashtag #FALLinlove. For more information you can take a look at our school page.