Fall Flavors Show Up Early – Part 1

As popular seasons trend, operators rush to capitalize on the Pumpkin as it reigns throughout the fall season. Quick-serve operators begin to change their menus and launch new and inspiring meals during the fall season to help beat their competition. Fall-flavoured menus are popping up everywhere with pumpkin doughnuts to the caramelized apple frozen yogurt signalling that the fall season has officially started.
"We usually launch [fall products] in October. But this year, for the first time, we are bringing them out in September," says spokeswoman for Krispy Kreme, Lafeea Watson. "That's what the industry seems to be doing."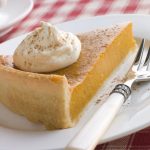 Krispy Kreme, in early September, rolled out its traditional Pumpkin Spice latte and Pumpkin Spice Doughnuts to the public before introducing the new Pumpkin Cheesecake Doughnut. On its Pinterest page, Krispy Kreme teased its customers about 2 seasonal doughnuts 2 weeks before they were released. "The two flavors are fully focused on flavor and crave-ability, so we are relying on a lot of social media and word of mouth," Watson says.
In late August, Orange Leaf Frozen Yogurt was able to launch its caramel apple, pumpkin pie, and chocolate snickerdoodle flavors of frozen yogurt,  "Last year, we introduced [fall products] later and noticed that all of our competitors had introduced them very early," says director of franchisee relations for Orange Leaf, Carrie Pemberton,. "It really felt like, if consumers want fall flavors, we should be offering them."
With the launch of its program "Orange Leaf To Go", Orange Leaf is vying for the marketing of the program which is said to start on October 1st. This programme allows customers to purchase pre-packaged cookie sandwiches and pints of to-go containers which are filled with Fro-Yo from Orange Leaf from their local store to take home with them. "We are trying to align those two, such as featuring Chocolate Snickerdoodle in a frozen-yogurt cookie sandwich or Pumpkin Pie yogurt in a to-go container," Pemberton says.
To Be Continued…
COMPETITION
The TALK English Schools is giving new and upcoming students the opportunity to win an iPad Mini with our new Fall competition. For your chance to win this amazing prize, all you have to do is like our Facebook page and upload your very own photo of the things you love with the hashtag #FALLinlove. For more information you can take a look at our school page.