Fall Flavors Show Up Early – Part 2
Beverage flavors and fall foods heavily lean on caramel apple, apple flavors, and pumpkin. "Pumpkin is clearly dominating, as are chocolate, salted caramel, caramel apple, and buffalo flavors," says editor at foodservice consulting firm Technomic, Lizzy Freier who notes that the popularity of buffalo flavors are more intense because of the football season.
Starbucks also decided to bring back a favourite the Pumpkin Spice Latte while also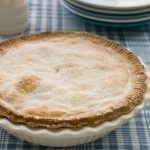 introducing its new Chocolate Chai Tea Latte. Dunkin' Donuts, in early September, introduced a brand new Pumpkin Pie Doughnut which is a pumpkin flavoured, buttercream filled yeast doughnut that is topped with Graham cracker crumbs and icing, along with frozen Pumpkin Coffee Coolattas. They also brought back their pumpkin flavoured lattes and coffee, Pumpkin muffins, and pumpkin donuts
Krispy Kreme introduced its new Pumpkin Cheesecake Doughnut this fall based on consumer "Our cheesecake products—and any filled products—do very well. Plus, adding the gingersnap cookie crumbles on the top really appealed to our consumers," Watson says. "Krispy Kreme's traditional Halloween-themed doughnuts also sell very well in the fall," she says.
On the pumpkin trend, a unique twist formed when Stevi B's Pizza from Atlanta recently launched its Pumpkin Pie Pizza which features a pumpkin pie warm filling that has been drizzled lightly with sweet icing. "This is our fourth year offering it, and we notice an increase in sales every year. Last year, we ran out," says CMO of Stevi B's Pizza, Allyson Smith.
The Pumpkin Pie Pizza from Stevi B has been promoted primarily through limited in-store merchandising and social media "As we use social media more, our customers chatter about our Pumpkin Pie Pizza more," Smith says. "We have very strong brand advocates and, through a lot of our new product introductions, they will campaign for us."
Although the popularity of caramel apple flavors and pumpkin flavors, they are only themes that help to draw in new customers in the fall season. Burger King was able to launch their new French Fry Burger. This burger offers a flame broiled beef patty which is topped with French fries for a low price of $1. Burger King also brought back its Buffalo Chicken Strips and Chicken Parmesan Sandwich.
"We expect to see flavors associated with popular football snacks during the fall," Freier says. Hardee's and Carl's Jr., for example, are giving customers the choice of a Buffalo Chicken Tenders and Buffalo Blue Cheese Burger.
Quick serve operators are also increasing their selections of soup as the weather becomes colder. Hawkers Asian Street which is Orlando based added their traditional ramen noodle soup, Shyu Ramen Noodle Soup, with added soy sauce. "Though delicious on its own, ramen is all about the toppings," says owner of Hawkers, Kaleb Harrell. "This one will incorporate bean sprouts, scallions, char siu (barbecue-roasted pork), and lop cheung (Chinese sausage)."