Travel Sites You Can Use
For TALK students traveling abroad for study, it is important to have a proper travel sites and guides to help you understand the way of life in your host country and help you get around easily and safely. We love the Lonely Planet Travel Guide for our students – here's why!
The Lonely Planet Travel Guide – why we recommend you get this book:
Quality Content – The Lonely Planet Guide is written by professional journalists and writers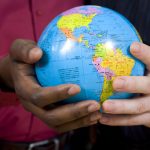 who have researched and who have gained insider knowledge and practical info about the destinations in the book from personal experience. It is aimed at youth travellers more than any other group. The writers have visited the areas and try to experience and gain knowledge or what these destinations offer to travelers on a budget.
 Helpful Language Phrases – Within this travel guide there are also helpful language phrases that make communication much easier. This section of the book is easy to read, and refer to, as it is broken down into most used words and phrases relating to transportation, accommodation, restaurant visits and food shopping, medical emergencies, and every other eventuality when traveling in a foreign country.
Attractions and Sites – The Lonely Planet Travel Guide also gives students insight into the different tourist attractions and sites to visit in each area. This travel guide features many different varieties of attractions including shopping, food, festivals, markets, museums, and tons more.
Restaurant Suggestions and Reviews – For students on a tight budget, there are many affordable restaurants listed with addresses, price ranges and reviews of the food.  All restaurants which are listed are listed in categories such as expensive, moderately expensive and inexpensive, and with the prices of different dishes. There is also advice about the busiest times in the restaurant, so you can avoid those if you are in a hurry.
Accurate Historical Information – When traveling, it makes things a whole lot more interesting if you know a little about the culture and history of the different areas. The Lonely Planet Travel Guide is fantastic for providing the reader with comprehensive and well written histories and information around the sights, cities, and other attractions on offer, making it a great source for history buffs who love to travel.