TALK Aventura Teachers
Any mention of the merits of TALK English School in Aventura would not be complete without recognizing the central role of TALK Aventura teachers.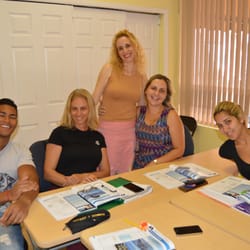 Aventura is an affluent international city to the north of the Miami metropolitan area. In the heart of the 'City of Excellence', as Aventura is sometimes called, is the equally excellent and dynamic TALK Aventura English School.  The school has grown steadily as it keeps pace with the demand for English language learning from the many new immigrants that flood into Aventura each year, as well as from international students who seek to live and study in this exciting location. Like all schools everywhere, the making of its students' success is largely down to the quality of its teachers.
TALK Aventura teachers ensure student success
We talked to two of TALK Aventura's teachers, Jordy Paredes and Michael Newbern, about their times teaching at the school.
A self-confessed, veteran "polyglot" (definition: able to speak or write several languages; multilingual,) Jordy Paredes joined the TALK family when he started teaching at our Aventura School 6 months ago. This coincided with school embarking on its latest phase of expansion, which will add three-thousand square feet to bring all classrooms, registration, reception and administrative areas together in nearly 8,000 square feet of beautifully designed space.
Says Jordy: 
"I could not ask for a better school to teach. I have enjoyed teaching the students as well as learning from them.  TALK cares about its teachers and students and it also provides excellent materials. TALK is our second home, where we feel welcome and appreciated. I am proud to be a teacher at TALK because the nice staff who work in the administration, as well as the rest of the teachers are committed to the success of every student.'
Michael Newbern has been with TALK  Aventura as a member of the teaching staff for the past 5 ½ years, and, like Jordy, he is part of a teaching team that is highly qualified, dedicated and passionate about their jobs.  Michael is so enthusiastic when he talks of his students and it is easy to understand why he is so loved and appreciated by staff and students alike.
"I am able to meet people from all over the world coming from all walks of life. It's amazing how their curiosity and determination connect them with us (the teachers) as well as other students from places where they never thought they would have a friend."
He attributes his love of his job not only to his students but also to the school's special spirit and supportive environment:
"Since the very first day, I have loved every minute.  Our amazing staff and directors truly know how to meet the needs of the students and make the environment of our school very warm and welcoming.
The school's approach of emphasizing an English-only policy is something teachers and their student work hard to enforce:  Says Michael:
"Our school really emphasizes an English-only policy and when the students put this into practice we see the results of the hard work of both the teachers and the students. And for me, the most rewarding thing as a teacher is to see my students using what we have learned in class."
Our TALK Aventura teachers are excited to be part of an exciting and bright future that awaits the school. We thank all of them for the huge and important role that they have played and will play in the success of English language learning at TALK Aventura.
LEARN MORE ABOUT TALK AVENTURA HERE!