Travel tips

Traveling is what makes the study abroad experience so exciting for our TALK international students. Before traveling abroad it is important to make sure all your basics are covered upon leaving your native country. Here are some  simple travel tips to prepare you for your big journey and wonderful adventure when studying abroad.
Identification
It is important to always carry some form of ID with you. Photo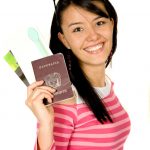 identification is always preferable and international student travelers will be required to have a passport in order to exit their native land and enter their host country. The USA Department of State recommends that all contact information is filled out in these forms, When you are in your host country make sure you keep your passport safe. If it is lost, you will need to contact the nearest embassy for help.
Documentation
Make sure all your documentation is completed well in advance. For international US student travel, you may be required to apply for a visa. Always check the requirements before you travel, otherwise, without proper documentation, you run the risk of being repatriated to your home country.
Itinerary
Before you leave, create an itinerary that includes the locations, dates, and times when you will be visiting particular places. Leave a copy with a family or friend. If there is an emergency, this information will help to locate you. You should also leave photocopies of your documentation and passport with your friends and family, in case of emergencies.
Register
The State Department allows you to register your itinerary and plans online, for free. By doing this, you make it a lot easier for you or your family to be contacted in the case of an emergency.
Medical/Health Insurance
Before traveling, it is a good idea to make sure you have health or medical insurance. This can come in handy if you need emergency surgery in your host country. Health insurance can save you hundreds to thousands of dollars.
Photocopies
Always bring photocopies of your ID, important documents or prescriptions, in case the real copies go missing.
Money
When studying or traveling abroad it is important to not take too much money in cash form. Keep your money in cards, this way if you are robbed you are less likely to lose a large amount of money.