5 FREE Things To Do In Boston This Weekend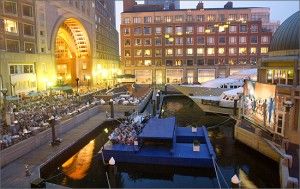 TALK Boston is a fabulous location for English language learners, as there are so many things to do in Boston, activities that are fun and interesting and wonderful historic, cultural and scenic places to visit and see.  Boston is so full of history, the city contains the story of the founding of a nation, has a character all of its own… each season, each month, each week there are loads of things to do in Boston. Let's start with summer!
5 (Free) Things to do in Boston in summer
What's on offer in Boston's summer is endless and so varied.  Many of the activities are free, or at least very cheap!  We at TALK have selected 5 of our favorites:
1.  Free Concerts at The Prado
When: Every Thursday till end of August:  family activities start at 5:30pm and concerts begin at 7pm.Where: Charter Street in North End ,provides the perfect setting for family activities and free concerts on Thursday nights.
Where: Charter Street in North End ,provides the perfect setting for family activities and free concerts on Thursday nights.
Concerts for the rest of summer include:
Frank Sinatra Favorites with Scott Boni Trio- August 1
CHROMA Berklee Modern Jazz Ensemble  – August 8
Big Band Bash with Jeremy & Friends- August 15
Across the Atlantic: Tracing a Tradition from Spain to the New World  – An evening of Spanish choral music- August 22
String Chamber Duo performs Mozart – August 29
Closest T station: Boston North Station
2.  August Moon Festival in Chinatown
When:  August 11, 2013, 10am – 5pm
Where:  The Chinatown Gate area on Harrison Ave, Chinatown in Downtown Boston
One of the residents' favorite things to do in Boston in summer is visit  Chinatown which comes alive with lion dances, martial arts, firecrackers, folk dances, and lots of vendors for the annual Chinese Moon Festival, also called the Mid-Autumn Festival.
The festival celebrates the legend of Chang'e, the immortal Lady of the Moon, and the overthrow of the Mongol rulers in 1368 when a rebel leader distributed mooncakes (which Mongols didn't eat) with messages hidden inside saying "Kill the Mongols."
It's the perfect excuse to spend an August Sunday in Chinatown. Start with dim sum, and then enjoy the colorful festival.
Closest T station:   Orange Line / Chinatown
3.  North End Feasts and Festivals
Boston's North End Italian Feasts and Festivals take place throughout the summer, as they have for 100 years or more – almost as long as Italians have lived in this neighborhood.
Most of the North End feasts celebrate a saint with food, music, religious ceremonies, parades, strolling singers, celebrations, and more – they're like giant street parties.
In general, opening ceremonies take place on Friday evenings, with other events starting around 1pm on Saturday and Sunday and continuing until about 11pm.  High Mass usually takes place on Sunday morning.
Three of the most famous take place in August:
St. Agrippina di Mineo's Feast – August 2-4, 2013, Battery and Hanover Streets – procession at 1pm on Sunday
102nd Annual Fisherman's Feast of the Madonna – August 15-18, Fleet and North Streets- procession at 1pm on Sunday
St. Anthony's Feast – The largest Italian religious festival in New England, August 23-25, Endicott, Thatcher, and North Margin Streets, procession at 12 noon on Sunday.
Closest T station:  Boston North station
4.  Boston Green Fest 2013
When:  August 15 – 17
Where:   Boston City Hall Plaza, Government Center
Boston GreenFest 2013 offers a huge assortment of exhibits, performances, and presentations about sustainable living.  EcoThemes for 2013 include water, energy, green cities, transportation, health, nutrition, and EcoFashion.
GreenFest highlights include:
Green fireworks and light show
200+ exhibitors
Green Film Fest
EcoFashion Show, EcoCafe, EcoGallery, EcoBazaar
100+ live performances, including a Native American drum and dance ceremony on Thursday, August 18th at 5pm
One Gallon Challenge:  Super-light, super-dynamic cars race from Plymouth, MA to GreenFest to see how long one gallon of gasoline will last.
Speakers, workshops, and much more!
Nearest T station:  Government
5.  Summer in the City movies and music
Boston Harbor Hotel's popular "Summer in the City" series lets you kick back and enjoy free music and movies overlooking the waterfront throughout the summer.
When:  On Fridays, enjoy music (starts at 4:30) and movies projected on a large screen over the Harbor starting at dusk.
August movies:
August 2 – Tootsie
August 9 – Rear Window
August 16 – Mary Poppins
August 23 – From Here to Eternity
August 30 – Anchors Aweigh
Where: Boston Harbor Hotel
Closest T station: Aquarium
The things to do in Boston are all free, and that's what's so great about the city – many of the most special memories you will create of your time there are free!