10 Fun Facts About Summer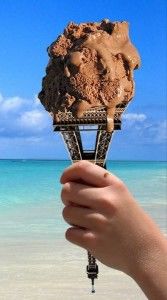 Learning English also means learning about the culture. Here in America, summer is a very special season, with many traditions are associated with it. Here are some fun facts about summer!
Summer in America: Some Fun Facts!
Fact #1 – The Eiffel Tower grows in summer. This historic structure is made of iron. Metal expands with heat. As a result, the Eiffel Tower can grow more than six inches in hot weather.
Fact #2 – More ice cream is sold in July than in any other month of the year. In July, Americans celebrate National Ice Cream Month. U.S. citizens consume about 5.5 gallons per year (on average).
Fact #3 – If you visit the park in the summer, you probably enjoy tossing a Frisbee. Did you know that frisbees were invented by accident?  This toy was created in the 1870s as a pie plate!  Students invented a fad of throwing them around in 1940's, thus changing the use to a form of entertainment.
Fact #4 – Swimming nude used to be the norm. No clothes necessary – at least in ancient days. This practice changed around the 17th century. Laws were put in place about decent swimming attire. Apparently, nobody wanted to see grandpa in the buff anymore.
Fact #5 – The Summer Olympics, first staged in 1896 in Athens, used to be a male-only event.  Females were just allowed to be spectators, and it was only in 1900 that they could participate as competitors.
Fact #6 – Horace Mann, an educator, invented summer vacation in 1837 when he was elected as Secretary of the Massachusetts Board of Education. Mann used this platform to reform the school system, introducing the summer break as well as developing a uniform training program for teachers.
Fact #7 – Summer breaks – or holidays – vary around the globe. In most industrialized countries, children go to school for more hours in a day and more days per year and so Summer Breaks are shorter as well.
Fact #8 – The first day of summer has a name: the summer solstice. This day usually falls on June 20 or June 21. The term solstice is Latin for 'sun stand still.'
Fact #9 – Three national holidays occur in the summer in the USA: Memorial Day, Fourth of July and Labor Day.
Fact #10 – As the air heats up, so does the consumption of watermelon.Watermelon somehow symbolizes summer in America. But, watermelon is actually a vegetable!  This vegetable is part of the cucumber, squash and pumpkin family.