The Community College Experience

There are few institutions of higher education in the world that are more dynamic and diverse than the community college system in the United States of America. People from all ages and walks of life go to these community colleges. From the age of 16 to 99; American, Japanese, German, Kazakh, etc; the high school valedictorian, the drop-out; military men and women, the fully-employed, the unemployed. In other words: everyone.
They attract so many different kinds of people because they have so many options. They offer associate's degrees for both transferring to university and career training, certificates and continuing education.
There are over 1000 community colleges in the US. They are all over the US. They are in urban areas, like Seattle Central Community College, and suburban, like Santa Barbara City College. They generally have a large student population, while keeping classes small and costs low. You will most like pay at least $10,000 USD less per year than at university.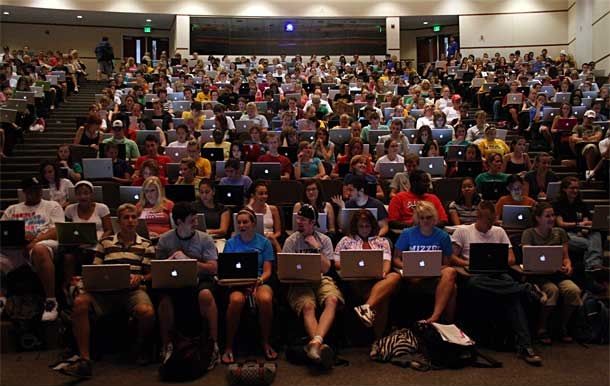 But there's more to community colleges than their degrees, locations and price tags! They are excellent introductions for international students to the US college and university system. The classes are smaller (think a 20-30 person class versus 300 person lecture) for the basic courses, so you'll have a better chance of getting to know the professor and understanding what she is teaching you. You will also be able to get to know your American and non-American classmates!
If you want to get all of your general education requirements for Notre Dame de Namur University's psychology undergraduate program, go to Mission College in just next door in Santa Clara after you've completed your language training with TALK on NDNU's campus.
If you are interested in biology at the University of California – Davis, why not go to Butte College in Oroville, California after TALK at NDNU? It is a community college right next to Chico, home of California State University, Chico, on a wilderness reserve. They are known for their science programs.
If you want to become a nurse, you should train in English at TALK's Regis College campus and then study for at Fulton-Montgomery Community College in Johnstown, New York for an Associate of Applied Science in Nursing.
Interested in a cross-country adventure? You should try TALK's language program at Nova Southeastern University, Pierce College for an associate's degree in the science track 2 for engineering and then transfer onto the University of Hawai'i at Manoa's College of Engineering.
Thinking about community college in the USA?
TALK's University Placement Service is here to help you narrow down the choices. We have over 20 partners in the US and are constantly expanding that network to serve your needs. We can assist you in deciding on the right college or university through discussion and review of your academic background and goals.