The TALK Go Pro Glossary  

Following the enormous success of Go Pro cameras, many other action or adventure cameras have come onto the market.  Whether it is a Go Pro you own or another Action Camera, they all share similar features and advantages over the point-and-shoot cameras and a Go Pro Glossary will help you navigate your way through choosing and using your action camera. Out of this fad has come new terms to describe all the devices, apps, mounts and functionalities of these cameras.  We compiled what we call a Go Pro Glossary, and it is useful for owners of any good quality action camera.
Go Pro Glossary
# (Numbers and Symbols)
.lrv file: This stands for Low Resolution Video and is generated for use in the GoPro app
.thm file: This is a file generated for thumbnails used in the GoPro app.
3M: This is the type of tape used on mounts that stick onto objects. Such as a helmet, or surfboard. 1080p – "Full HD". Refers to 1920×1080 resolution used in "Full HD" images and footage.
16:9 – An aspect ratio for widescreen format. Most GoPro video formats shoot in this aspect ratio.
2.7k – Refers to an ultra-high resolution video mode that is 2716×1440 (2.7k "Cinema")
4:3 – A "square" aspect ratio. GoPro photos and some video modes shoot in this aspect ratio.
4k – Refers to an ultra-high resolution video mode that is 4096×2160.
720p – Refers to 1280×720 resolution. This is considered to be the base standard of "HD" by youtube.
A
Abe Kislevtz: Does media production for GoPro. His blog offers excellent tutorials in using the cameras and editing. Can also be found on the /r/GoPro forum.
Advanced Protune Controls: Provides customizable settings for color, ISO Limit, Sharpness, and Exposure, increasing the creative control you have over your images. Available options vary by model.
AE: Adobe After Effects. Used for visual effects. A popular editing software
Anti-Jello: A device that reduces the amount of vibration caused by quadcopters. Example. AE – Adobe Anamorphic- When black bars are added to videos to help achieve the "cinema" look.
Anti-Fog inserts
Auto Image Rotation: When enabled, the camera automatically adjusts orientation to right-side up when the camera is mounted upside down.
B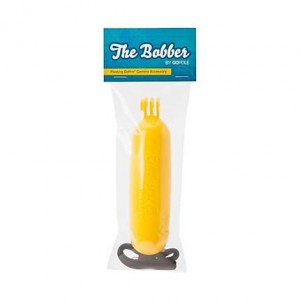 Backdoor/ Backdoor Types : Refers to the inter-changeable backend piece of your housing. Such as the Floaty.
BacPac: An attachment that fits onto the back of a GoPro camera. Either a Battery BacPac, or a LCD BacPac.
Battery BacPac: Attaches to the back of your GoPro camera and increases your battery.
Bobber:  A floating handgrip Designed to save your camera if dropped in the water,
Body Mounts: GoPro mounts that are attached to a person, such as a helmet mount.
Burst Mode: A setting that captures many photos in a matter of seconds.
Black, Silver, White – Refers to the different variants of the GoPro Hero3.
C
Cineform – Cineform Studio, a free editing software available from GoPro.
Class 2, 4, 6, 10, UHS, etc – These refer to the speed class of a memory card. They tell what the maximum speed capabilities of the card's read/write functions are. If the card is too slow, the it won't be able to write information fast enough and the GoPro will stop recording. For the HD Hero, GoPro recommends at least a class 4. For the new Hero3, a UHS 1 (ultra high speed class 1) is recommended, which is a class 10 with extra speed capabilities.
Class x speed cards (Replace x with rating)
Codec
Conforming – Conforming is simply changing the frame-rate of your footage. An example of this would be taking 60fps down to 24fps. It can be done in many different software suites.
CWA/Center Weighted Average – This is the alternative to Spot Metering for most GoPro Cameras. It evaluates the entire image and adjusts the whitebalance according to the average of the whole image. This is a good default for most situations.
Crowdfunding: A way to raise money to build products. Many GoPro accessory companies were spun out of successful crowdfunded campaign, such as Rhino Camera Gear, Go-Mount, and PolarPro. A popular platform for crowdfunding is Kickstarter.
D
Doohickey/Noseplug – A small silicon shim included with most adhesive mounts that helps eliminate rattle and noise from the mount shifting slightly while in use. It is U shaped with a small tether (resembles a swimming nose plug) and can be orange or white.
Drone: See UAV.
E
Export – Generating a video file out of a video software project, suitable for internet video players to play
F
FCP Express
FCP or FCPX – Final Cut Pro or FCP Express , a popular Mac-native editing software.
File Chaptering: This is when your GoPro camera automatically splits a video file. It is completely normal.
Fish-Eye – Most commonly referring to the barrel distortion seen in large field of view images/video, this is the rounded "bending" effect at the edge of an image/video.
FPS – Frames per second. Most commonly refers to the video shooting mode and indicates the speed the video is recorded at. The faster the speed, the smoother it will look, and the more you can slow the footage down without seeing stuttering
FPV: First Person View. A headset that gives the drone's view while flying.
FOV: Field of View. Refers to how much you can see in a shot. Shown numerically (example, 170 degrees) or by a name (Wide, Ultra-Wide).
Floaty: Refers to the Backdoor floaty, or any floatation device to keep your GoPro camera from sinking. (Such as a floating wrist strap.)
Frame: A GoPro frame is a lightweight, often plastic case that allows a GoPro to be mounted without the waterproof housing.
Frame Grab: Taking a still image from a video
G
Gimbal: An electronic stabilizing device. Used in UAVs and with handles.
GoPole: A GoPro accessory manufacturer that primarily makes poles and grips.
GoPro Studio – A software created by GoPro to edit gopro footage
Grip: See handle.
H
H4B: HERO4 Black edition
H4S: HERO4 Silver Edition
HERO: The $129.99 entry level GoPro camera.
H3B+: HERO3+ Black edition.
H3S+: HERO3+ Silver edition.
H3B: HERO3 Black edition.
H3S: HERO3 Silver edition.
H3W: HERO3 White edition.
Handle: A GoPro accessory that acts as a grip to hold the camera.
Housing: What encases the GoPro camera. Most popular housing is waterproof.
HSP Mount: Handlebar Seatpost Pole mount.
HiLight Tag: Lets you mark key moments while recording so you can locate your best clips later for playback, editing, or sharing. You can add tags by pressing a button on compatible cameras, the Smart Remote, or the GoPro App.
I
iMovie: Apple video editing software.
J
Jaws Clamp: A quick clamp built by GoPro.
Jello: Refers to the swaying seen in many quadcopter videos. Anti-Jello accessories exist to dampen this.
K
KAP: Kite Aerial Photography. Using kites to get aerial shots.
K-Edge: A GoPro accessory manufacturer that specializes in metal mounts.
Kickstarter: A crowdfunding company that has been used by many people to build GoPro accessories.
L
LCD BacPac: A touchscreen LCD that fits onto the back of a GoPro camera. Allows you to adjust settings, preview your shots, play video and more.
Lens types (Underwater/Curved)
Loop Recording: A feature that will automatically save/delete a set number of minutes recorded. Example: You've set up your GoPro camera to record lightning strikes during a storm. You don't want to miss potential strikes by swapping out a memory card. You set up loop recording so that if a strike occurs, you can stop the camera and the last ## of minutes are saved.
M
MakerBot: A company that makes a 3D printer that is popular with DIY GoPro accessories.
MicroSD: The type of memory card that the HERO3 and HERO3+ require.
MP – Megapixels. If you've been around digital cameras, you know that a Megapixel is a unit of measurement for digital images. Generally, the higher the MPs, the better the image.
MPEG_Streamclip – A free windows/mac software to convert videos
Multi-copter: See UAV.
N
Naked: Refers to a GoPro camera outside of any housing.
Native Resolution – Refers to the resolution in which the file was originally filmed in. If the original footage was filmed in 1440p, but was exported as 1080p, the native resolution is 1440p
Nick Woodman: Founder and CEO of GoPro.
NVG: Night Vision Goggles.
O
Object mounts: GoPro mounts that are attached primarily to objects, such as a handlebar.
P
Panolapse: Software that stitches together your photos to make amazing timelapse edits. Can add panning effects, remove the fisheye, and will blend images to make a smoother motion.
PE1,PE5, P1, P5, etc. – This is referring to the "Picture every X seconds" mode GoPro cameras have. While this setting can be used for many different reasons, it is mostly commonly used to create time-lapse video.
Phantom: This is referring to the DJI Phantom. A popular quadcopter used for aerial footage.
Poles: A popular GoPro monopod accessory. Often telescoping.
Power / Mode Button: The big button on the front of the camera.
POV – Point of View. This most commonly refers to a field of view so high that it mimics human vision, creating a visual effect that the viewer is actually viewing the content of the image/video in person.
Power Button & Select Button
Premier – Adobe Premier, a popular editing software.
Protune – Optimizes your GoPro images for post-production workflows. Activating Protune gives you higher data rates with less video compression, cinematic 24 fps frame rates, as well a more neutral color profile for increased flexibility for color-grading during post. The neutral color also preserves more details in the highlights and shadows for an expanded dynamic range.  For advanced users.
Q
Quadcopter: A type of UAV. Specifically has four rotors. Such as the DJI Phantom.
QuikCapture: Allows the camera to power on and record automatically with the press of a single button.
Quick Mounts: GoPro mounts that once attached to a camera, can be easily deployed. Such as the Jaws Clamp.
QR Buckle: Quick release buckle.
R
R1, R3, R5, etc. – Before the UI update with the Hero2, GoPro cameras referred to the different video modes as R1-5. For example, R5 was 1080p at 30fps, and R3 was 720p at 60fps. If you see someone talking about the original HD Hero, you might see someone reference an R setting.
RainX (Used to prevent fogging)
Res/Resolution – Resolution is how large image or video is. The larger the resolution, the more detailed the image or video will be.
RTF: Ready to Fly. Refers to UAV's that can be flown out of the box, without any practice.
S
SD/Micro SD – GoPros use one of two types of memory storage, an SD card, or a Micro SD card. SD cards are larger and are used by the Hero960 through the Hero2. The Hero3 models all use the Micro SD card.
Spot/Spot metering – A setting where, in photo mode, the camera adjusts the white balance based on a single spot in the middle of the frame. This is good for shooting from inside a car out into a bright environment, for example.
Shutter / Select / S Button: The big button on the top of the camera.
Simultaneous Video + Photo: Record video and capture time-lapse photos at the same time.
Skeleton: A type of housing that has open sides which gives you access to the cameras ports. Used for live video feed, improved audio, live charging. This is not waterproof housing.
Smatree: A popular third party GoPro battery manufacturer.
Steadicam: A type of stabilizer that balances the camera.
SuperView: A feature in GoPro HERO3+ Black cameras that dynamically stretches the video to fit into the 16 x 9 frame.
T
Timelapse: Refers to both a camera mode and hardware. The camera mode captures a series of photos in a set amount of time, allowing you to capture long sequences without running through your memory. Timelapse hardware is a slow rotating mount, which captures long panning shots.
Transcode – To convert a type of video file to another format. An example of this would be taking the original un-edited footage from the GoPro camera, and "transcoding" it to the Cineform Codec.
Trim + Share: This feature enables you to create short video clips on your phone or tablet and share them on Instagram, Facebook, YouTube, and more.
Twixtor – A software plugin that uses frame blending to simulate high speed videography (super-slow motion)
U
UAV: Unmanned Aerial Vehicle. Another name for quadcopters or drones, such as the DJI Phantom.
UPd: Upside Down Mode.
Upscaling – Means to place lower resolution footage (i.e., 720p) into a larger composition size (i.e., 1080p).
Upscaling footage
Upside Down Mode: Use this mode if you mount your camera upside down. This will flip the video.
V
Vegas – Sony Vegas, a popular editing software
W
Wasabi: A popular third party GoPro battery manufacturer.
X
Y
Z
We hope you find these Go Pro glossary terms useful as you negotiate the brave new world of action photography.
Thinking of going abroad to learn English? Since 1998, TALK has brought students from all corners of the world together to the USA to learn English. Our vision is about a world where communication, understanding, co-operation and respect exist between people of all countries and cultures. At TALK, we believe the best way to learn English is to be fully immersed in American culture both inside and outside of the classroom.  Learn More About TALK.