TALK Fort Lauderdale Moves into New Building on Wednesday, February 1st, 2012!

TALK Fort Lauderdale has a new home – directly across University Drive from our current center at Nova Southeastern University (NSU).
Our move comes from a desire to give TALK Fort Lauderdale students and teachers a more spacious and modern facility. We are still located in the Davie area of Broward County, and minutes away from our previous location at Nova University.
How TALK Fort Lauderdale Students benefit from the Move
Our students will enjoy access to Nova Southeastern University's public facilities and amenities including state-of-the-art library, new recreational complex with fitness center, heated swimming pool, food court/cafeteria and performing arts center.
At the NEW building students will have:
A beautiful new school with high-quality design features and free wi-fi
Large and spacious classrooms with natural light and modern furniture
Student meeting areas including an outside seating area
Easy access to public transportation and campus buses
Close proximity to universities, cafes, restaurants and shops
Our new building is within the Fort Lauderdale Education and Research complex which includes NSU, Broward College, Florida Atlantic University and Barry University.
Our new TALK Fort Lauderdale center is within walking distance to public transportation, campus buses, cafes, restaurants, book stores and shops. It is located at: 3501 S. University Drive, Suite 3, Fort Lauderdale, FL 33328.
Take advantage of our new, modern and spacious location by booking now!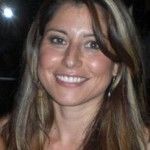 Romina Raffo is our Marketing Coordinator. Romina loves painting, dancing, and decorating her new apartment. She also loves anything with a Parisian theme and dreams of seeing the Eiffel Tower someday. She can be reached at marketing@talk.edu.