Stephanie, Student at TALK Fort Lauderdale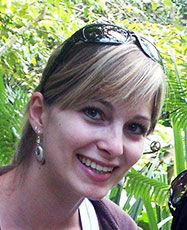 Student Stephanie Keel, from Switzerland, describes her experience at TALK Fort Lauderdale. Stephanie recently completed her 3-month English course at TALK Fort Lauderdale and leaves with wonderful memories and fluency in English!
Stephanie will miss TALK Fort Lauderdale
When I came to America almost 4 months ago, I thought, Wow! that is going to be a very long time. And now, I can't believe that 4 months are already almost over.
I will leave America with a happy and a sad eye.
Happy because I know I will see my family and all my friends again and of course, all the cows.
Also happy because I had an amazing time here. I had so many super classmates and very good, funny and excellent teachers.I felt very comfortable here. I learned a lot from you and I can go tomorrow to Miami with a good feeling.
I met a lot of very nice people and some of you have become very good friends to me and you have a special place in my heart. And I think, it is incredible what kind of friendships, especially such strong ones can be created or grow in such a short time.
The past 3 months with you means a lot to me. I will take many good memories with me. We tried to do as much as we could do. I really enjoyed the time and we had so much fun. For example, visits to the beach, visits to clubs, our weekly dinners, playing funny games with sometimes too much information or on our trips to Orlando, Key West or the Bahamas. We laughed a lot together and we even cried together.
I will leave TALK Fort Lauderdale and America with a sad eye because I know this great experience will be over soon.
But I am glad I have one more week left and besides my test, I will try to enjoy every single minute as much as possible!