Thanksgiving at TALK Regis College

Thanksgiving at TALK Schools has become a fantastic tradition when our international students really get into the spirit of this American holiday. Thanksgiving at TALK  Boston was an amazing party this year!
The Holiday Season is definitely upon us although the weather feels more like spring than winter.
Students at TALK had the opportunity to experience America's favorite holiday THANKSGIVING for most students it was a first with the exception of Laura Orama (Venezuela) who has been with us since October 2010.
Thanksgiving at TALK Boston
We rolled up our sleeves and cooked traditional delicacies such as green bean casserole, mashed potatoes, gravy, stuffing, and finally, the piece de resistance: the Turkey (affectionately known as "The Bird").
Teachers, students and staff gave their very emotional thanks to their friends, family and each other as tears flowed.
Thanks to TALK English Schools for making a great Thanksgiving at TALK Boston tpossible. Happy Thanksgiving!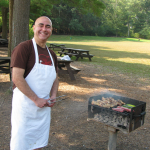 George De Souza is our Center Director. George enjoys teaching, playing the guitar & singing, cooking and learning about different cultures through good conversations and food.  He can be contacted at boston.director@talk.edu.