Q&A with TALK Boston at Regis College Teacher Amanda Gaspar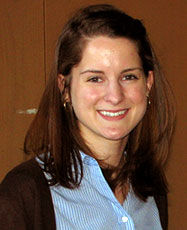 TALK Boston, like all our schools, emphasizes a friendly, welcoming and professional approach, and our TALK Boston teacher, Amanda Gaspar, represents all these characteristics too!
Friendly Faces and Shared Experiences at TALK Boston
Why did you decide to become an English language instructor?
I decided to become an English language teacher because it's an incredible way to meet people and learn about a huge variety of cultures and different perspectives.
What is your favorite part about being an instructor at TALK Boston?
My favorite part about teaching at TALK Boston is being a friendly face to which students can come with questions, not only about English, but about American tradition and culture. For some students, we as teachers are a representation of American values, and it's a responsibility and a privilege to represent my country in a positive way for students.
What do you enjoy most about living in Boston?
Boston is great because it offers so much to do without being an enormous or overwhelming city. Whether you want to experience the history, fashion, food, sports, or music and arts scene, you can do so in a city that still has a small-town vibe.
What advice would you offer to a student interested in studying in the U.S.?
As someone who has also studied abroad, I know that it's easy to revert back to speaking one's native language or to become homesick. Despite these challenges, I would suggest that anyone studying English in the U.S. make a promise to him or herself to make the most of their experience by only speaking English and by pursuing any and all cultural experiences. Keep your eyes and ears open to new opportunities to meet people and learn, and don't be afraid to make mistakes when speaking English- it's one of the best ways to learn!
What is the most memorable experience you've had while working with TALK?
There have been numerous occasions in which I've had the pleasure to watch an initially shy and quiet student really flourish and share his gifts and personality with those around him. It's amazing to watch how the students interact with and teach one another when they gain confidence.
What is the funniest thing that has happened so far in your classroom?
I feel lucky to say that, at TALK Boston, my students keep me laughing on a daily basis. However, one of the funniest moments was during a game of truth or dare. Students had to write on index cards a "dare" challenge and a "truth" question for their fellow students to choose from during the activity. They came up with the most hilarious ideas and we were in tears laughing.