Happy Turkey Day!

Thanksgiving is the perfect time to indulge in tons of turkey, watch football and spend time with family and friends.
Traditionally, Thanksgiving is a day where friends and families come together to celebrate with a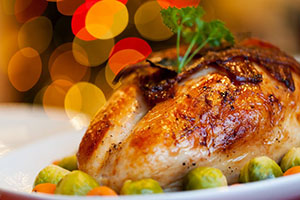 special meal. This meal generally involves a turkey, cranberry sauce, stuffing, potatoes, pumpkin pie, gravy, and vegetables. Overall though, Thanksgiving, held on the last Thursday of November, is a day that may people pay thanks for everything they have in their lives.
In some cities and towns, Thanksgiving Day parades are held to celebrate this holiday and mark the official opening of the Christmas season. Over Thanksgiving the nation closes down for a 4 day weekend, so it is a popular time for family and friends to take trips.
Thanksgiving: it's not just about the turkey
Thanksgiving dates back to the harvest celebration of the pilgrims and the Native Americans in the fall of 1621. However, this "first Thanksgiving" was just a gathering, not a holiday. In fact, it wasn't a holiday until Pres. Abraham Lincoln proclaimed Thanksgiving Day in 1863. We've been giving thanks on the fourth Thursday of November ever since.
Stay tuned for pictures of how we do Thanksgiving at TALK!