Ways to Enjoy Winter

Winter in the USA is a fun time for all. Christmas, Hannukah, Kwanzaa and other holidays are a big part of the winter season's festivities but there are many other ways that this season can be enjoyed.
Although the cold and snow may not be everybody's idea of fun, there are those for who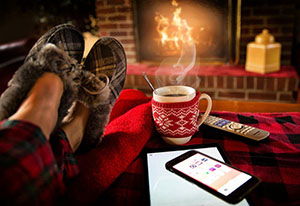 m winter and the snow and cold is the best time of the year.  In the USA it means the start of the holiday season. For children and for adults, it's a time when they can get outside and enjoy the activities that the snow has to offer.  Here are some ways to look at the winter holiday season as a time to have fun, enjoy romance and take part in fantastic and inexpensive outdoor activities.
Create Wintertime Memories
Go sledding
Build a snowman
Have a snowball fight
Make a snow angel
Catch snowflakes on your tongue
Collect pine cones
Build a snow fort
Read a favourite book from your childhood
Make paper cut-outs of snowflakes
Have tomato soup with a grilled cheese sandwich
Enjoy Traditional Holiday or Winter Foods
Bake cookies and share them with your neighbors
Drink some hot buttered rum
Boil up some spiced cider or a pot of mulled wine
Make a large batch of chilli
Bake your favourite pie
Drink some eggnog
Make snow cream
Make a cheesy casserole
Bake cinnamon rolls
Pop a bottle of champagne
Place some peppermint schnapps in hot chocolate
Take to the Great Outdoors
Ski the slopes
Go ice skating
Kickback in an outdoor hot tub
Go snowshoeing
Go sledding
Rest or Play in the Great Indoors
Sit and cuddle with someone in front of a roaring fire
Read a book while curled up under a blanket
Wear fuzzy slippers in your home
Complete a jig-saw
Take a long warm bubble bath
Shop online in your PJs for after Christmas sales
Just Because
Watch the snow fall
Hold a warm mug of chocolate milk on a cold day
Wear mittens
Mail a handwritten card to a friend you haven't talk to in years
Donate toys/food/clothing to local charities
Breathe the smell of pine
Watch a local hockey game
Wear flannel Pjs
On a chilly night listen to the wind howl
Watch a local hockey game
Volunteer in a soup kitchen
Wear something red
Get into that Holiday Spirit
Put up a wreath
Decorate your home with colorful festive lights
Decorate a gingerbread house
Turn on the Christmas song radio station
Admire the zaniest and the most beautiful of the neighborhood lights
Throw a Superbowl party
Listen to carollers
Go to a holiday craft fair and buy a memento of this time