The Origins of Black Friday
Every November, shoppers in the USA await the bargain hunting highlight of the year. Black Friday on the fourth Friday of the month: that is the day after Thanksgiving. The build-up begins the night before when the most dedicated bargain hunters camp outside major stores waiting for the doors to open in the morning and to take advantage of the best bargains. Black Friday is known as the biggest and most popular shopping day in the USA. It is also known as the day that kicks off the Christmas shopping season.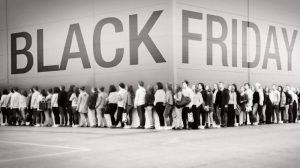 Black Friday Origins
It is believed that Black Friday began with the parades on Thanksgiving Day. Many big department stores sponsored these parades to promote themselves, but it was a rule that Christmas advertising didn't start until the parades were complete. So the retailers followed up on the next day by launching major advertising campaigns which offered huge bargains. Thus the Friday after Thanksgiving became the day that bargain hunters flooded the stores.
Why Is Black Friday Called "Black" Friday?
As early as the 1960's, Philadelphia's police force referred to the day after Thanksgiving as Black Friday. This was because of the increase in pedestrian traffic and traffic jams in the shopping district. For the police, cab drivers, bus drivers and others who were trying to navigate the streets full of pedestrians, the day was bleak or black.
The hype around Black Friday arises from door buster bargain prices that retailers offer – discounts can run from 50% to 80%. Retailers create a sense of urgency using various techniques such as:
Advertising at certain times of the day at ridiculously low prices.
Offering certain discounts that only last an hour.
Offering a limited number of a particular item at the special purchase price.
Pricing some merchandise lower than the actual cost.
The Down Side To Black Friday
Although Black Friday is a great time for bargains, it does have its downside – incidents of people pushing aside other shoppers, name-calling, stampedes and even injuries are quite common. So when looking to join in on the Black Friday sales, avoid these potential situations so that you have an fun shopping experience without getting hurt in the process!