Mothers Day or Dia de la Madre

Mothers Day this year falls on May 10 in the USA.  Other countries honor mothers too, some on different dates, and with different types of gifts and traditions.
Mothers Day has been celebrated in the United States the 2nd Sunday of May since 1914. This year the day falls on May 10. An American mother will expect to be showered with flowers, gifts, fancy meals and lots of love from her family!
While many countries share this date, Mother's Day elsewhere often falls on days which are tied to the country's religion and cultural traditions.  Miami, with its strong Latin American culture, boasts all the region's rich traditions and rituals that observe the mother figure.
Mothers Day in Latin America Dia de la Madre
 'A mother is someone who, on seeing only 4 pieces of chocolate cake for 5 people, will be the first to say that she doesn't really like chocolate.' 
This is a saying in Latin America, where a mother is revered as the heart of any family. Mothers Day is a very important day in this region of the world. Flowers are laid at the graves of grandmothers and great grandmothers.
Latin American countries that lie to the north of the equator – Brazil, Ecuador, El Salvador, Peru and Colombia, Mexico  – mostly share the same day as the USA to celebrate Mothers Day, 'Dia de la Madre.'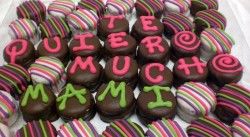 In Mexico, children often make charming crafts to give to their mothers and grandmothers, and serenade their Moms and Grandmas with songs such as 'Las Mananitas' – a birthday song accompanied by mariachi bands.  A traditional family will gather around the grandmother for a day of eating, drinking, and celebration.
In Costa Rica, mothers are honored on August 15, when Church observes the Assumption of the Blessed Virgin Mary into heaven. It is a National Public Holiday.
Panama's Mothers Day falls on December 8th, the national holiday for the Feast of the Immaculate Conception connecting Mary, mother of Jesus, to all mothers.  There are parades and festivities throughout the nation.
Mothers Day in Bolivia is on May 27th, the anniversary of the Battle of Coronilla in the Bolivian War of Independence, when hundreds of women fighters died at the hands of the Spanish.
In Argentina, Mothers Day is celebrated in October. This marks the beginning of spring in the Southern Hemisphere.
Happy Mothers Day to all our Moms in the TALK family!!!