Please leave your values at the hotel desk: English fails in foreign hotels.

English fails are very common not only in non-English speaking countries but the amount of English fails that we see on signage, posters, and even in business emails in English-Speaking countries is considerable, shall we say, and growing. Luckily enough, many English fails make for a good laugh!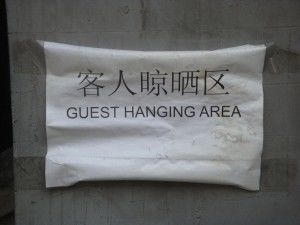 Some English Fails in Foreign Lands
When you know for sure the decision to learn English at TALK English Schools has been a smart one (unlike the authors of sign below!):
In a hotel in Tokyo : 'Is forbidden to steal hotel towels please. If you are not a person to do such thing is please not to read notis.'
In a hotel in Bucharest : 'The lift is being fixed for the next day. During that time we regret that you will be unbearable.'
In a hotel in Leipzig : 'Do not enter the lift backwards, and only when lit up.'
In a hotel in Belgrade (in front of the elevator) : 'Please leave your values at the front desk.'
In a hotel in Yugoslavia :'The flattening of underwear with pleasure is the job of the chambermaid.'
In a hotel in Japan : 'You are invited to take advantage of the chambermaid.'
In a hotel in Moscow (across from a Russian Monastery): 'You are welcome to visit the cemetery where famous Russian and Soviet composers, artists, and writers are buried daily except Thursday.'
In a hotel in Austria (in a skiing resort): 'Not to perambulate the corridors in the hours of repose in the boots of ascension.
In a hotel in Swizerland : 'Special today: NO ICE CREAM.'
In a hotel in a Switzerland ( on the restaurant's menu ) : 'Our wines leave you nothing to hope for.'
In a hotel in Acapulco : 'The manager has personally passed all the water served here.'
In a hotel in Zurich :'Because of the impropriety of entertaining guests of the opposite sex in the bedroom, it is suggested that the lobby be used for this purpose.'
In a hotel in Moscow (on the hotel room): 'If this is your first visit to the USSR, you are welcome to it.'
Athens hotel: 'Visitors are expected to complain at the office between the hours of 9 and 11am daily.'
Belgrade elevator: 'To move the cabin, push button for wishing floor. If the cabin should enter more persons, each one should press a number of wishing floor. Driving then going alphabetically in national order.'
Norwegian lounge: 'Ladies are requested not to have children in the bar.'
Although these are non-English speaking English Fails, we will astound and amuse you with the ones we have logged in English speaking countries!!!