English Fluency at a Fast Pace!
For Shenia Goncalves, who, with her husband, arrived in Boston a year ago, this time has been one of adaptation to a new culture that included learning a new language and quickly acquiring the skills that it takes for pretty perfect English fluency.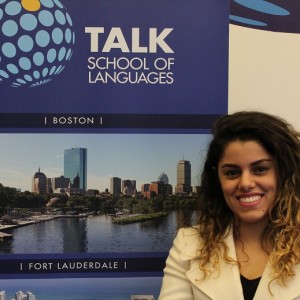 Shenia gained Total English Fluency in just Six Months!
"Living in Boston, it surprises us and provides us with new experiences all the time. For the one year that I have lived here with my husband, we had to learn a new way of life. Everything was new and different … simple things like saying "Hi!" and "How are you?" It's so different for me."
Shenia continues: "I never thought about learning English. For me, it is the hardest thing I have done in all my life.
"I have studied at TALK Boston for six months now, and I still remember my first day in class. I was completely lost. I couldn't understand or speak a single word in English, and six months later, I am writing about my experience, not as easy as in Portuguese, but I can do it!"
"I can also talk with the doctor, without an interpreter, get my car insurance with an American company, or resolve some problems in my life. In general, I can live in an English-speaking world! It may sound easy and simple, but it is incredible to me!
"In conclusion – all things are possible. If you want to do it, you can do it."
Thanks for this, Shenia. We can testify amazing English fluency and you have described your experience so eloquently using all the right expressions. We think you are an amazing learner whose skills are way above the average after 6 months. Living and functioning in English-speaking surroundings certainly accelerates language-learning. Congratulations on your incredible achievement!